Converged Services will procure your next broadband and telecommunications agreement by capitalizing on the competitive environment we create.
1. Partner with a company that is 100% committed through the term of agreement with a dedicated team and consultant.
2. Future-proof emerging technologies.
3. Save time by utilizing the Converged Services proven process developed over 20 years.
4. Benefit from one firm offering a suite of services for your community, including integrated property management lifestyle software, generating new revenue streams and cost savings, and improved communications and connectivity.
5. Dynamically connect and engage your community by disseminating information during the negotiation process.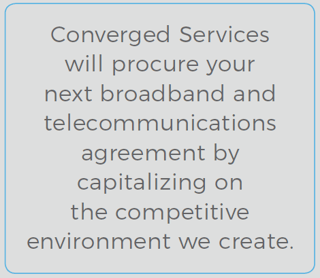 6. Initiate the process driven by you and your community, not by the providers.
7. Create a hyper-competitive environment to receive the best products and services for your community.
8. Uncover industry secrets to negotiate favorable contract provisions and concessions.
9. Partner with the industry insider with over 250 years of combined experience and over 1 million homes represented.
10. Utilize the nation's largest and most experienced broadband and telecommunications consulting firm.
Download our Partnership Guide or contact us today to learn how your community can benefit from partnering with Converged Services.