The Watergater, the best available water flow management system, is now available to our clients. Working to reduce utility bills can be a costly expense and a challenge. Most consumers don't consider the cost of water consumption when operating day-to-day.
In order to reduce costs for your community or communities, there are a variety of different factors that should be considered.
Waste and water consumption are one of the last resources communities look at when attempting to reduce costs. Luckily, it can now be one of the easiest and most significant for saving money with The Watergater.
The Watergater is an innovative and patented technology that helps control the consumption of water by reducing the air volume running through your meter. By controlling the air that accumulates in your water delivery system – before it reaches the water meter – The Watergater hydro-technology will reduce your water expenses by up to 40% per month – adding significant savings to your bottom-line.
The process is simple by first identifying the volume of water costs per month and the location and number of water meters on the property, then conducting a site survey and collecting 12-months' worth of bills to evaluate and analyze, and finally providing a 60-day free trial to receive immediate savings to your community or communities!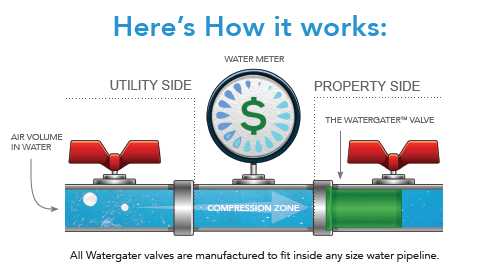 The Watergater Advantages:
Compresses air in your water line before it passes through the meter to keep your costs down and ensures you aren't paying for air volume.
Enables the water meter to measure water volume, not air.
Helps regulate water pressure.
Maximizes your water consumption without compromising comfort.
Increases water savings significantly.
Functions as a buffer from dramatic increases and decreases in water pressure.
Increases water efficiency in your business.
Best of all The Watergater will reduce the cost of water consumption, is maintenance free, and backed by a 10-year manufacturer's warranty.
To learn more about how The Watergater can help your community or communities save money, contact us today.