If you are involved in Real Estate or Technology Planning for your community, it's likely that you've heard the buzz-terms "Smart Apartments, "Internet of Things (IoT)," "Smart Home Automation," and more. These terms have grown in popularity as more and more residents choose "smart amenities" over traditional ones. Smart amenities range from services such as keyless entry through mobile applications to auto-adjust thermostats and lighting. As this technology evolution continues to grow, how can you be sure that your community is sustainable and not susceptible to these trends?
As technology advisors, operating in this space daily, we suggest following these steps to a sustainable, smart community:
Step 1: Commit to smart or not.
The evolution for a community to incorporate smart features and amenities requires a holistic approach from leadership to the boots on the ground. The quality of IoT functionality in a community is directly correlated to the connectivity backbone that is established. Plainly stated: in order to connect smart devices, there needs to be a strong network connection.
Step 2: Determine your technology team.
Technology integration and evolution within a community is not a one-person task. It's important to consider the variation of responsibilities involved with a "smart" evolution. Consider hiring a professional consulting firm dedicated to technology to allow your staff to focus on residents and real estate:

Technology Standards: what service levels are you looking to provide for residents? Be sure to identify technology that is sustainable and will not need updating before the end of the contract term.
Finances: Consider the value of the service at a cost on a corporate level, and on the individual resident level.
Vendor Selection: The vendors selected have to be in sync with all staff and personnel involved.
Implementation + Project Management: Everything you have prepared and planned for comes to fruition at this point. Coordination and timelines are key for all parties involved.
Support: Identify escalation paths for residents, property staff, and corporate staff so that issues are corrected in a timely manner.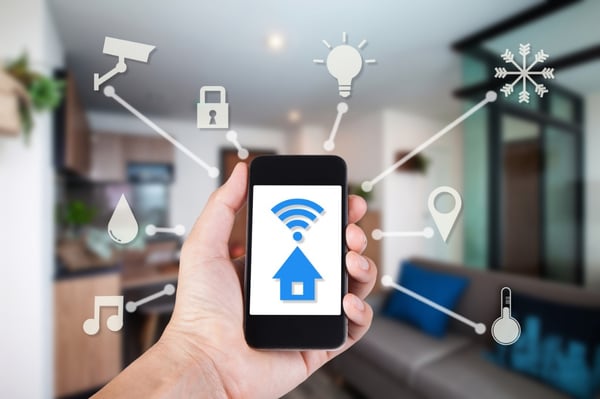 Step 3: Identify property assets that would be successful with a smart evolution.
When evaluating an asset for an IoT takeover, it's important to consider specifics such as the market that the asset is located in, the demographic of tenants, strength of property staff, vendors' ability to service a specific region, and additional unique identifiers for that asset.
Step 4: Identify, evaluate, and select vendors.
This is arguably the most important step in this process. It's important to evaluate as many vendors as possible to understand the range of what is being offered in the marketplace. Before selecting a vendor, assess their commitment to Internet security. A professional technology consulting firm will advise on these factors along with many other important criteria.
Step 5: Business terms.
The business terms will be unique between your company and the vendors that you select to move forward with.
Step 6: Implementation.
Coordinate all onsite scheduling between corporate, property, and vendor staff to limit property disruption. When evaluating technology consulting firms, the group hired should be one with certified project management as a core service of their business.
Step 7: Supporting the program.
Be sure that vendor support covers all potential aspects of the program that is being implemented. It's also very important for corporate and property staff to understand their resolution paths for escalations. Lastly, be aware of when a technology update and refresh is needed.
If you would like to be a part of the technology evolution and take the smart steps to a sustainable community, partner with Converged Services. Technology evolution is a collaborative effort and Converged Services is committed to your company's success.